June Art Competition 2021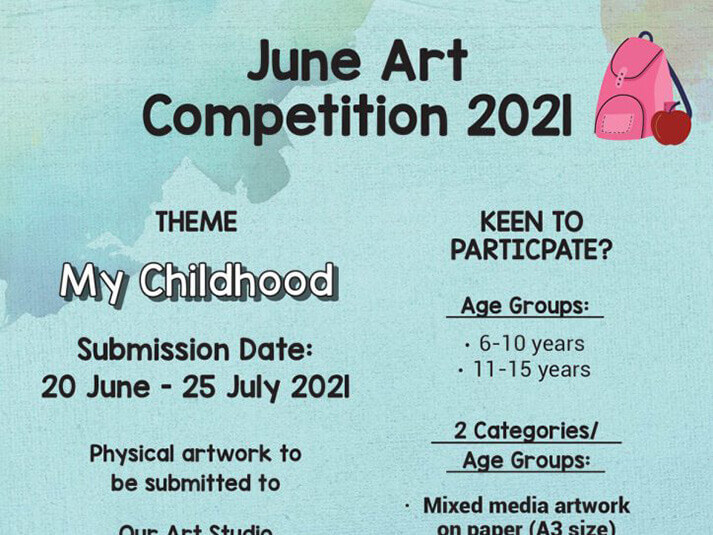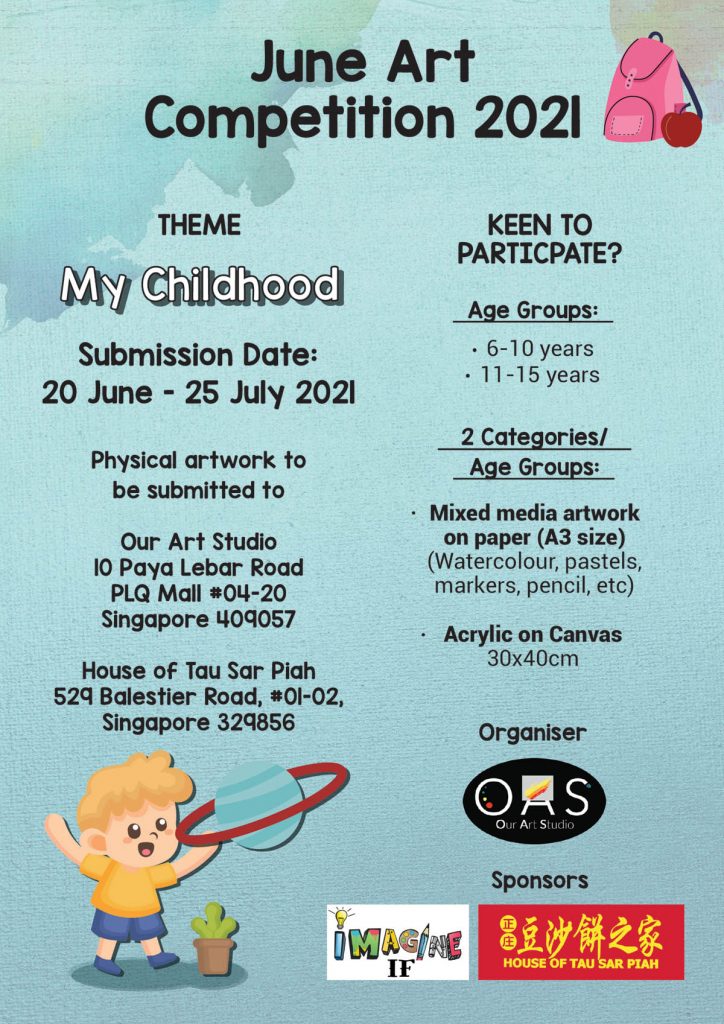 Calling out to all 6 – 15 year olds!
Organized by Our Art Studio and proudly sponsored by House of Tau Sar Piah and Imagine If Bespoke Education Experience, we are happy to launch our June Art Competition 2021!
Theme: My Childhood
Participants may showcase their creativity by submitting artworks that represent part of their childhood. It can be their favourite food snack, their favourite activity, place, etc.
Age Groups and Categories
Two age groups: 1) 6 – 10 years old and 2) 11 – 15 years old
Two categories per age group: 1) Mixed media on paper (A3 size) and 2) Acrylic on canvas (30x40cm size)
Each participant can participate in one or both categories for their age group. Only one artwork per category per participant will be accepted.
Submission Details
Participants are to register via the form: https://forms.gle/sQWXyT2N4MFmBAwp8
Physical artworks are to be submitted between 20 June – 25 July 2021 (before 2000hr) to either one of below addresses:
1) Our Art Studio
10 Paya Lebar Road, PLQ Mall #04-20, Singapore 409057
Tel: 6908 3183
2) House of Tar Sar Piah
529 Balestier Road, #01-02, Singapore 329856
Tel: 6250 3008
Judging criteria
85% based on panel of judges
Artwork will be evaluated based on creative use of the medium, skills and application, relevance to the theme, composition skill and overall aesthetic appeal
15% based on number of IG / FB likes
Participants are to upload a clear photo of their artwork on their FB/IG accounts on 25 July 2021, set the post to public, like and tag @ourartstudio.sg and @houseoftarsarpiah
Total number of likes will be computed on 31 July 2021, 2359hr.
Materials can be purchased from Our Art Studio @ PLQ Mall if needed.
Prizes
1st prize for each age group/category (total 4 prizes)
$50 Popular voucher + $30 Our Art Studio voucher + "Paving the Path to Puberty" book. (Total worth $100)
2 notable prizes for each age group/category (total 8 prizes)
$10 Popular voucher + $32 Our Art Studio voucher + "Paving the Path to Puberty" E-book. (Total worth $50)
House of Tar Sar Piah and Our Art Studio will display a reproduced copy of the 1st prize winners' artwork at their locations for 1 year.
Social contribution
House of Tau Sar Piah will donate 5 tau sar piahs to St Theresa's Home for every entry received.
Our Sponsors
House of Tau Sar Piah
Over 26 years of history in Singapore making traditional Chinese biscuits that have green bean paste, wrapped with flaky pastry. There are 11 regular flavours including yam, pineapple and coffee. These vegan friendly treats do not contain pork lard, eggs, butter nor onions and are handmade and freshly baked daily. This comfort food is suitable for young and old. We also have gift packaging for weddings and birthdays! Order online @ www.houseoftausarpiah.com or visit us today @529 Balestier Road.
Imagine If
Your alternative education solution provider. We cater to the discerning parent wanting more for their child than the same old school-tuition-enrichment treadmill. All learners at Imagine If receive a bespoke curriculum based on with access to the best delivery from virtual and onsite educators from around the globe. We create pandemic proof learners who can learn anyplace, anyhow, anytime from anyone! Find out more at www.imagineif.com.
Our Organizer
Our Art Studio (OAS)
Founded for the purpose of bringing the joy of art to all. Having a professional team of fine art teachers, our art classes are customized to suit everyone. We have conducted these classes for children as well as for adults. OAS has helped built portfolios for students applying for art institutions/DSA programs. Besides conducting classes in our studio, we conduct regular classes at dementia / elderly day care centres and corporate team bonding events. Art supplies can also be found in OAS retail section.
*open to residents residing in Singapore only